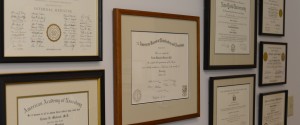 Welcome to our Neurology practice.  A neurologist is a non-surgical specialist who diagnoses and treats people with conditions affecting the nervous system including the brain, spinal cord, nerves and muscles.  We may serve as consultants to other physicians and can provide long term care to patients with chronic neurological conditions. For almost 25 years, we have been striving to meet the medical needs and enhance the well-being of the patients who we serve.  We firmly believe that each patient is an individual, deserving of empathy and respect.  Our goal is to provide high quality attentive neurological care in a supportive and comfortable setting.
---
Insurances Accepted
We accept MOST insurance, however to avoid billing issues, it is HIGHLY recommended that you check with your insurance carrier for provider participation as some carved out plans we do not participate with.
We DO NOT accept:
No Fault/MVA, Tricare, Empire BCBS, GHI, Independent Health, Fidelis, WellCare, All VA plans, Western BCBS HMO plan and straight Medicaid.
We will accept Worker's Comp for diagnostic testing only with prior authorization